---
THINGS A PHONE SEX GIRL IS GRATEFUL FOR AT THANKSGIVING
1. She can have as many "boyfriends" as she wants.
2. She NEVER gets told "I'm not in the mood".
3. The only thing she or her boyfriends ever has to worry about "catching" is lockjaw.
4. Birth control is not an issue.
5. When someone calls her a dirty little slut, it's a compliment.
6. She can go to work without ever getting out of bed.
7. Birthday spankings are fun! (both giving and receiving)
8. She doesn't have to live in Nevada to be legal.
9. No one ever says to her: "Do you HAVE to tie up the phone all day??".
10. And of course, every phone sex girl is grateful, during the holidays, or at any other time, to have great clients like you!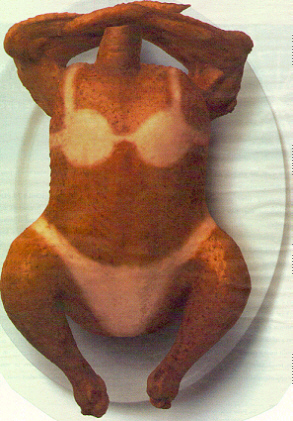 It was Thanksgiving Morning ......
It was Thanksgiving Morning
I'd just opened my eyes,
I rolled over; looked down-
Holy Shit! What a rise!

What to do? I could stroke it,
But that wasn't much fun.
Like a big Turkey Dinner
At a table for one.

I considered my porn flicks
And my smut magazines...
Then my eyes lit upon
My computer screen.

I'd been surfing last night,
I'd found hot, nasty chicks,
With soft wet pussies,
And round asses and tits.

I looked up the number
And picked up the phone,
And a sweet honey voice
Asked if I was alone.

I laid back on the bed,
and followed directions.
She whispered and moaned
While I pumped my erection.

The next thing I knew
I exploded like crazy,
My body just shook
And my vision was hazy...

So what am I thankful for
This Thanksgiving morning?
Worldofphonesex.com
And their girls who are horny!!

What are Phone Sex Girls Thankful for????
Everyone has things they are thankful for at this time of year; our phone girls have put together a list of items that they are thankful for too. We think you will have to agree that they are an imaginative group of girls!

vibrators (with endless supplies of batteries)
sexy, hot callers who make the vibrators necessary!
silky, lacy lingerie
XXX porno movies
big tippers
pizza delivery
satin sheets
telephone headsets
Penthouse Forum
slippery elm lozenges for dry/sore throats
frozen, microwave dinners
all-night movie channels
cordless phones
Chinese take-out
crotch less panties
sinfully rich chocolates
dildos with attachments
high speed internet
crispy crème doughnuts
not being married to Scott Peterson
KY, Astroglide and other lubricants
'call forwarding'
and, of course, our girls are most thankful for: HORNY GUYS
OVER THE RIVER AND THROUGH THE WOODS (THANKSGIVING SONG)

PHONE SEX VERSION

I got a really bad case of wood,
It's time to pick up the phone;
This Thanksgiving day
My dick wants to play,
Isn't that always the way, Oh!
Phone girls know how to take care of the wood,
Oh how that girl does blow!
She sucks on my hose;
Feel it down to my toes,
Bend over and here we go!

I know right whe-ere to put the wood,
To have a first-rate play;
Oh, hear the phone ring
"Ting-a-ling-ling!"
Hurrah for Thanksgiving Day-ay!
I know whenever I get the wood,
She'll always be ready to play.
She's always around
Sharing her mound,
Even on Thanksgiving day! Yea!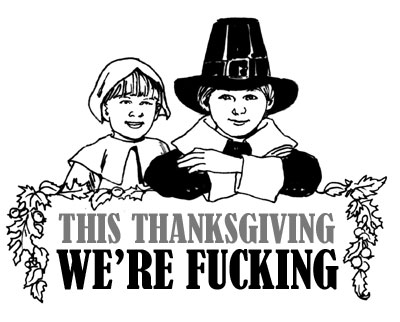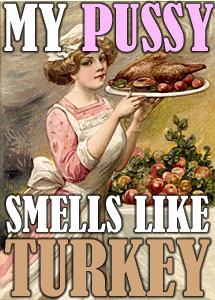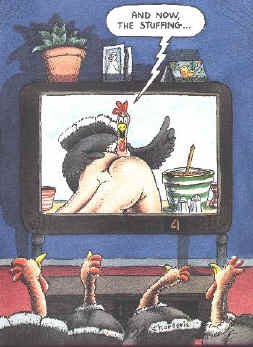 'Twas The Night of Thanksgiving
— Author Unknown —

'Twas the night of Thanksgiving, but I just couldn't sleep.
I tried counting backwards, I tried counting sheep.
The leftovers beckoned — the dark meat and white,
But I fought the temptation with all of my might.
Tossing and turning with anticipation,
The thought of a snack became infatuation.
So, I raced to the kitchen, flung open the door
And gazed at the fridge, full of goodies galore.
I gobbled up turkey and buttered potatoes,
Pickles and carrots, beans and tomatoes.
I felt myself swelling so plump and so round,
'Til all of a sudden, I rose off the ground.
I crashed through the ceiling, floating into the sky,
With a mouthful of pudding and a handful of pie.
But, I managed to yell as I soared past the trees ...
Happy eating to all, pass the cranberries, please.
May your stuffing be tasty, your turkey be plump.
Your potatoes 'n gravy have nary a lump.
May your yams be delicious, your pies take the prize.
May your Thanksgiving dinner stay off of your thighs.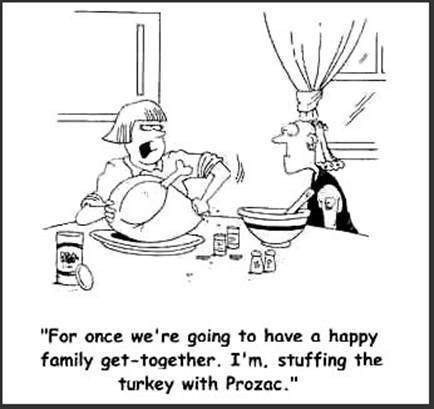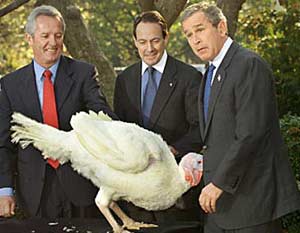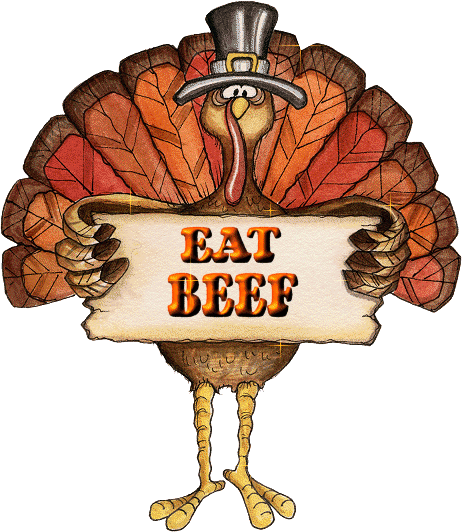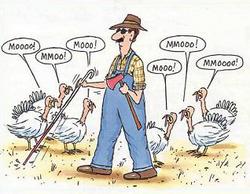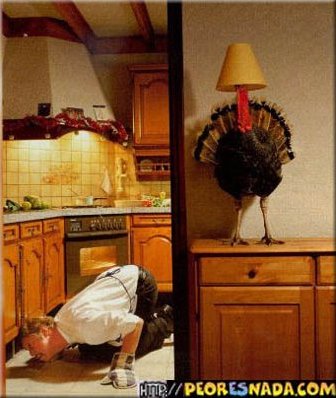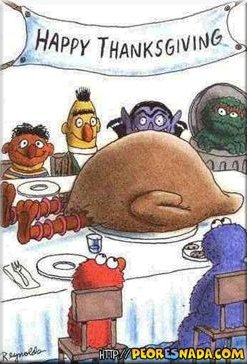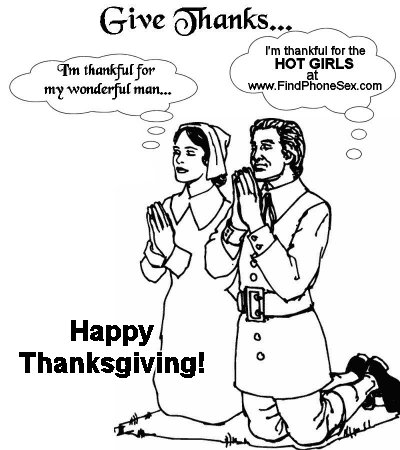 ---
Things you can only say on Thanksgiving

1. Talk about a huge breast!
2. Tying the legs together keeps the inside moist.
3. It's Cool Whip time!
4. If I don't undo my pants, I'll burst!
5. Whew, that's one terrific spread!
6. I'm in the mood for a little dark meat.
7. Are you ready for seconds yet?
8. It's a little dry, do you still want to eat it?
9.Just wait your turn, you'll get some!
10. Don't play with your meat.
11. Just spread the legs open and stuff it in.
12. Do you think you'll be able to handle all these people at once?
13. I didn't expect everyone to come at once!
14. You still have a little bit on your chin.
15. How long will it take after you stick it in?
16. You'll know its ready when it pops up.
17. Wow, I didn't think I could handle all of that!
18. That's the biggest one I've ever seen!
I saw you across a crowded room. Among all the others that were there, The lights seemed to shine down on you alone. I knew then I had to have you for my own.
Willingly, you came with me to my home. From the car, I carried you & threw the door. Looking at you, I admire your body, your well shaped legs, and breasts.
Slowly I remove what wraps, around your body so tightly, fitting you like a glove. Exposing your tender white skin. From your neck I remove your charms, and carry you off in my arms, to the warm water that awaits. The water cascades down your neck, flowing over your soft breasts then, making your legs glisten with wetness. Droplets of water cover your taut skin. My hands rub your body, ummmm running them threw the beads of water. Making them trickle down off your body. I place my fingers inside you. You are warm and moist, so ready. I carry your still dripping body, to a laying place, so that I can put inside you what was well prepared to enter you before we even came through the door. As soon as I lay you down your legs spread open wide. You are ready now and so am I. I put a little in slowly at first, getting a feel for how much you can take in. I put in more, you take it willingly. In anticipation, faster and faster I put it in, pushing it in deeply as far as I can, until I can't put any more in, you are so tight. With your legs wrapped tightly, not wanting to release any of it. I make you so hot for a very long time, until your sweet juices escape from within. Then I taste you, with my tongue at first, your skin is so soft and tender. I taste more of you with my mouth, you are so hot and moist, you taste so good. Your juices coating my mouth, making me drool in anticipation of eating you more, with every taste. "Oh yes", I say to you,....I must say Grace "Thank God for Butterball turkey.... Amen"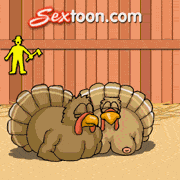 For more phonesex related humor visit www.phonesexfunnies.com/