Age: 19

Location: Florida

5 Things I like: Hot tubs, Strippers, Working Out, Erotic Phone Sex, and I love to Cock Tease.

Top 2 Positions: On top and Anal

Availability: Always! :) Try me anytime. Mornings, Evenings, Late night.

My First time: Masturbating at the age of 10 and for sex at the age of 13 with an employee of my Dad's.

Limits: Are there limits in phone sex? NO LIMITS. Please teach me all.

Dirtiest thing I've done: Played in a sandbox. Sex is not dirty its fun!

Favorite type of call: Erotic fun and Intense kink fantasies...

Song that best fits me: "Let's get the party started"... -- Pink

Specialties:
Daddy's girl: I'll climb into your lap and tell you all about my naughty day. Teacher's pet: Sometimes a girl needs extra help with her studies. ;) Sister: Have you ever been caught masturbating? Maybe next time it'll be me who gets caught! Young Mommy: Teaching my horny boy how to become a man. Or showing my daughter how to explore that pretty pussy. Niece: Lets see how having my Auntie teach me how to drive.. Or having my Uncle take me for a ride. Secretary: Taking Dick-tation under the boss's desk while the meeting is in session. Patient: I *love* my doctor.. He gave me my first physical as a big girl.
Favorite Toys: Anal Beads, Butt Plugs, Dilldos, Jack rabbits, Nipple clamps, hot tub jets, candle wax, shower hose heads, strap-ons, elastic bands, stockings, blindfolds, hot oils and Hand cuffs Do you have any toys to teach me new tricks with?
More about Me: I really enjoy being naughty with you. Let me cock tease you until you explode! Would love to let you listen to me moan as my girlfriend performs oral sex on me. Dress me up in Stockings and heels, Maybe you'll even let me dress you up and make you my Sissy boy and show me how much you love to suck my Toys! Can you handle watching me show off on the dance floor for you? Stripping my top off like the exhibitionist that I am. Or, maybe you'd just like to show me how you stroke that teeny tiny cock for me. Listen to me Laugh out loud at the thought of you putting that tiny thing in me! Let me humiliate you to the point of no return. You say you want you ass fucked? Let me treat your wife like the little whore that she *really* is, I'll fuck her with my strap on then make her watch while I fuck your ass! Listen to me teach other girls and boys about my first time sexual encounters.
Lets not forget my everyday encounters:
Massages, Oral, Anal, 2-girls, Toys, Spankings, Voyeur, Exhibitionist, Role Playing, Cuckolding, Humiliation, Milk Slaves, Domination, Submissive, Sissy boys, First times, Cock sucking, Toy training, Foot Fetishes and Panty Fetishes.
If you don't see what you are looking for contact me!
I love a challenge, and I'm always looking for new sexual experiences. --

.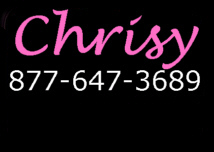 Click here to read my Letters from Daddy!